Former Minister in charge of Territorial Integrity's Public Outreach, including Dialogue with Business Circles
As was pointed in the "Report of the Advisory Panel on Communications Concerning Territorial Integrity", effective communications concerning territorial integrity cannot be conducted by the government sector alone. It is also important to engage various key figures outside the government to ensure that Japan's communication is effective.
To this end, then Minister in charge of Territorial Integrity, Ichita Yamamoto, intends to continue to meet and conduct dialogue with key figures representing Japan in their respective fields, including business circles, with a view to further promoting support and understanding of the government's position among them.
Meeting with members of Japan Business Federation
1.Date/Time:   December 18, 2013, 9:30-10:30 am
2.Venue:     The headquarter of Japan Business Federation
3.Organization:  Committee on Foreign Affairs, Japan Business Federation
4.Summary
In his opening remark, then Minister Yamamoto first briefed the group on the situation surrounding the Senkaku Islands, the issues of Takeshima and the Northern Territories, and related government initiatives. Former minister also expressed his hope that those in the business circles also engage in conversation regarding Japan's territorial integrity with people from other countries, and express their own views in their own words.
Subsequently, the then Minister had a fruitful exchange of views with the participants on such topics as (a) the importance of overseas communication and of increasing the number of countries that support Japan's position, (b) the importance of engaging think-tanks and universities in the U.S, and (c) the importance of the revival of the Japanese economy allowing Japan to exercise greater influence in the international community.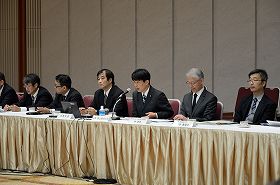 Former Minister Yamamoto's meeting with members of Japan
Business Federation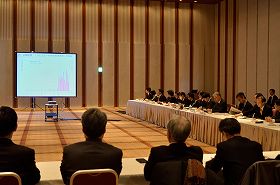 Former Minister Yamamoto's meeting with members of Japan
Business Federation